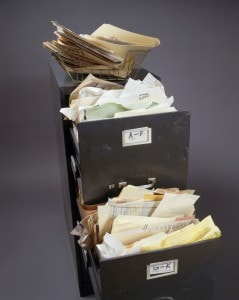 The Brief History of Note Taking
Remembering information isn't a new concept and we as a human race have been trying to perfect the art of remembering for centuries.
John Locke, a 17th century philosopher, devised a method of indexing his notations within the commonplace books and published his methods around 1685.
Nearly a century later, John Bell expanded upon John Locke's methods and published various notebooks on managing recorded thought.
Recording and recalling important information hasn't changed much over the centuries as even in the age of early technology, people were still recording information in hard copy as they printed out reams of paper only to file it in a physical folder or cabinet.
Fast forward to 2015:
Technology has allowed us to engage in global research and keeping track of important information in a timely manner is crucial in order to not lose it within the countless number of websites, articles, and books at our disposal.
How do we create today's version of the commonplace book where we can record digital and physical pieces of information and have immediate access to everything we want the remember?
*drumroll* Enter Evernote.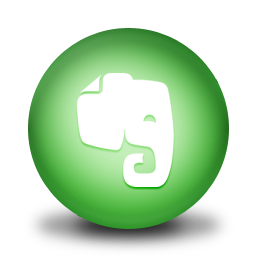 What is Evernote, Officially?
Evernote approaches the market as the workspace "for everything you'll do". The product has continued to evolve over the years to include a chat, presentation mode, and the ability to collaborate on a particular note. As represented by their name, the tool's base feature is to create and store notes forever. Each "note" is represented as a card and you can then organize cards into notebooks and tags.
My Evernote Experience
I began using Evernote in Jan 2010 and have been filing my digital memory ever since.
It did take some time to intertwine the application into my personal workflow; however, in the past few years Evernote has seen an explosion of integration with other software and physical items which only increases the ease of "feeding" your digital brain.
The only downside to Evernote is that I didn't have it years ago to keep track of all the things I'm sure I've forgotten.
I can say from experience that Evernote is by far the most versatile personal knowledge management system to date.
As someone whose entire career has been forged in document and data management in the legal discovery world, I can expertly attest to the importance of being able to Collect, Annotate, Organize & Research (COAR) – which Evernote does simplistically and from every device on the planet.
As a partner in a software company during the late 90's where electronically stored information (ESI) was becoming increasing more prevalent in legal matters, we had to develop a tool for COAR which was not only able to store large amounts of data but also documents of any file type.
I know this is tooting our own horn but I truly believe that the Rocket Science crew and our first-generation discovery management tool stood among giants. We created the most versatile platform for dealing with vast amounts of information in a simplistic yet highly versatile manner.
The product was easy to use, easy to capture records, and easy to search literally right out of the box yet could be adapted to fit nearly every review workflow and even adapt to non-discovery data management needs. Turn it on! (End shameless plug)

Evernote performs the same amazing feat on the personal knowledge management level as we did for legal discovery with the simplicity of managing the "stuff" you need to COAR.
The simplicity of its design makes this product so effective yet opens the door to many more use cases from reminders and to-do lists.
There are a handful of popular tools out there that claim to manage your to-dos and workflow but none are as straight forward and easy to jump in and out of without having to perform tons of steps.
Clearly, Evernote's developers follow the same mantra I have used throughout my career dedicated to workflow and application design: keep it simple but allow for customizations for the outliers.
By designing the software in a manner that is easy and flexible, it opens up the possibilities for use and allows users beyond a niche to adapt it to their own personal style.
Having all data flow into a single repository removes the old barriers of trying to remember what to remember due to questions such as "what folder did I put that in again?" and harnesses the methodology of finding "value in our content through the better utilization of both metadata and tagging" noted by Nick Inglis.
Finally, nearly every productivity tool wants to offer a method of getting data into Evernote which just continues to increase the ease of letting Evernote manage your digital mind.
Evernote has even created an Appcenter where you can explore many of the applications that collaborate directly with Evernote. As an example, If This Then That (IFTTT) who creates "simple connections between the products you use every day". IFTTT has tons of "recipes" you can create and even has developed a quick launching, note taking app named Do that can drop your text directly into Evernote.
As integration points have increased and new features rollout, I tend to find myself working within Evernote more and more.
For example, Evernote has created a very robust word processor allowing me to write outlines, proposals, notes, and blogs directly from within the platform.
Many times, my final product ends up in MS Word or Apple Pages but the initial outline and draft starts in Evernote. Being able to create a to-do list, reminder(s), and chat with a colleague about the context of a proposal all within the same platform are a few advantages for starting in Evernote.
I have found a handful of connected apps and tools to Evernote that have increased the ease of getting information into Evernote.
Using Evernote to COAR
1) Collect
Collecting information is easier than ever with the ability to enter notes directly from Evernote's application within the web browser, desktop, and mobile applications.
Additionally, there are many apps that allow you to send directly into Evernote and most recently for iPhone users the ability to launch a new note directly from the notification window.
2) Annotate
There are so many ways to annotate within Evernote that an entire post could be dedicated to this topic.
Nonetheless, annotating has been an increasingly more useful feature within the product ever since the introduction of sharing notes.
Allowing the team to visualize changes directly on an image or PDF can be a huge enhancement to group collaboration especially when dealing with design whether it be websites, marketing materials, or proposals.
3) Organize
Organization within Evernote can be as simple as leaving all your notes and clippings in a giant pile or you may implement your own custom notebook and tagging system.
Either way, finding information with a quick search will pull all relevant note cards to view.
– Notebooks
Using Notebooks is a way to "pile" your related notes into one area for quick reference. As an example, I tend to use Evernote as a library for all the articles I would like to read at a later time.
When I clip an article using the Web Clipper, I will assign it to the Articles notebook.
– Tags
Tagging is also another way to classify a note by a particular concept or key term that may not be found within the actual note.
I tend to tag any picture I take of an item that has a serial number as "Serial Number" so if I ever need to find a part for repair or reference that information on a customer care call, I can find it quickly.
Evernote says you can have up to 100,000 personal tags so it's going to take awhile before hitting that ceiling.
4) Research
Performing research in Evernote can quickly be done via the search box which is found at the top right of the screen on any device.
The search is all inclusive which means it is searching your notes' titles, text, tag classifications, and notebook assignments.
8 Ways How I Use Evernote
My use case for Evernote stems beyond my work setting as I use it to store information for research on my industry, emerging technologies, tracking my to-dos, remembering recipes, tracing my genealogy, and store all of my writing.
I describe 10 ways that I use Evernote and accompanying apps on a daily basis below:
1) Launch a Note Directly While On-The-Go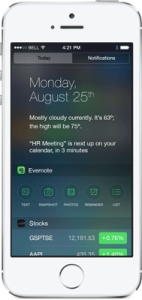 I'm a heavy smartphone user, as I assume most of us are these days, so it makes perfect sense for Evernote to introduce a faster way to capture an idea.
Many times I find myself needing to remember a topic to research or a to-do that has a due date so I quick launch a note directly from my phone.
To launch a new note or edit a most recent entry quickly you first have to enable the Evernote Widget from the Notification screen.
How do you setup Evernote inside iOS Notification Screen?
Swipe down from the top of your iPhone Screen and scroll down to "Edit" on the Today screen. Click the green plus to the left of Evernote and press "Done" at the top right of the screen.
You will now have Evernote quickly accessible from the Notification screen in order to capture your ideas before the moment passes.
2) Web Clipping
The web clipping integration is placed right within the desktop browser (I currently have it installed on Firefox and Chrome) and the similar function exists within the iOS send-to function.
This is by far my most heavily used function on a daily basis whether I'm clipping a great article I'd like to share with others or saving an article for further reading later.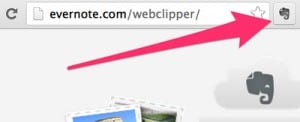 3) LiveScribe
I have been using a LiveScribe Pulse pen and the LiveScribe Dot Paper for quite some time now.
This is not my main method of manual note taking though from time to time I find that having the audio recording for a highly technical meeting can be of great value when reviewing the notes.
Unfortunately, my version of the LiveScribe pen and software doesn't automatically sync to Evernote so this method does taken a few additional steps for me. However, I'm eager to test and review the newest LiveScribe 3 pen that claims it can auto sync to Evernote.
4) Handwritten Notes using Moleskin
One of the most widely known brands for handwriting notebooks is Moleskin. Their notebooks ranging in all sizes are used by people in every industry so it is no surprise that they would look to enhance their iconic brand by teaming with Evernote.
In an effort to keep the art of physical handwritten notes alive, Moleskin has developed a special set of notebooks able to have your handwriting become searchable within Evernote.
You can easily add anything you write in these notebooks to Evernote by taking a photo. Evernote will automatically add it as a note and make your handwriting searchable.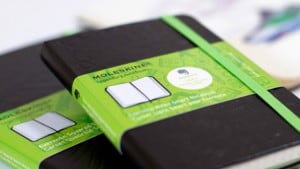 I keep a handful of these notebooks ranging in various sizes in all of my travel bags, in my car, and on my desk so I can have one readily available when the need arises.
5) Email to Evernote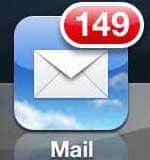 Quit using email as your to-do system and just forward that email onward! The last thing anyone wants to keep looming around is that dreaded email count staring at you all day as you look at your phone to do anything else.
Evernote allows you to forward that message and even apply a tag and reminder date to the subject line.
I also have Google Gmail filters sending purchases and registrations directly into Evernote.
How do you email to your Evernote Account?
First you need to find your Evernote email address by viewing your Account info screen. Save that email address to your contacts and name it something you will remember like "Evernote Upload" or simply "Evernote".
Now all you have to do when you'd like to remember something, just forward that email to the "Evernote" contact.
By editing the subject line before hitting send you can also add a reminder which reduces your dependance on the inbox count as your to-do list. By adding the syntax "!yyy/mm/dd" you can have that note flagged in Evernote with a reminder alert.
Also, if you know the tag(s) you'd like to assign just add the # symbol then enter the tag. Hit send and you are now able to see your to-do items directly in Evernote.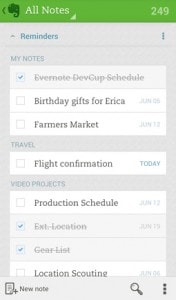 6) Evernote Camera
The Evernote camera can take pictures of documents or photos which immediately become a note within the application. This feature is great when you need to quickly take a snapshot of something like a form you have to mail back or a kid's birthday invitation.
You are presented with a option to turn the image into a document, color document, photo, Post-It Note, or Business Card once you launch the camera feature, which can be done via the Evernote iOS Notification Widget, and you snap the photo. It also allows you to take multiple images and combine them into one note so you are able to capture an entire document with relative ease.
As of writing this post, one of the newest camera enhancements allowing Evernote to automatically frame the item you wish to capture hasn't worked correctly on my iPhone 6 Plus and crashes the application.
Hopefully, there will be an update soon as it should make this process even quicker.
7) Write Notes on the iPad with Penultimate
I previously wrote a blog post about the new Jot Script 2:Evernote Edition stylus and writing notes directly on the iPad with Evernote's app called Penultimate.
I have not been able to completely adopt this method of note taking. However, I do see myself using the stylus more when annotating a note; especially, with the new collaborative features within Evernote.
I'm eager to integrate Evernote into our UI design sessions in an effort to document version control.
8) Task Management with Swipes
I've recently downloaded Swipes in an effort to become more productive with task management during the workday. I'm still in the learning phase but so far it seems that it may become part of my daily routine.
The app does connect to your Evernote entries and integrates your to-do lists making it easy to prioritize your day from one window. More to come…
Below is their promo video:

What Should You Save in Evernote?

1) Storing Research and Articles
2) Recipes
3) Kid's birthday invitations
4) All of your writing
5) Items to collaborate on within the team (UI designs, workflow explanations, etc)
6) Wish list
7) business cards
8) Your to-do list
9) Product serial numbers
10) Genealogy records
11) Basically everything worth remembering!
Evernote is Freeimum — Do you go Premium or not?
Evernote is a Freeimum product meaning it has tons of features readily available to you upon signup and then there are extras when you pay for Premium.
However, the base product is quite adequate for your everyday note keeping and all the other apps integrate with Evernote regardless of your membership level!
One of the features that does make Premium a nice to have is the ability to search text within a document added to Evernote that didn't have OCR. Check out the Evernote Free v Premium chart.
One of the nice things about Evernote's partnership with companies like Adonit and Moleskin is that the products typically have Evernote "points" with every purchase. Thus, by purchasing the moleskin notebook you get access to Evernote Premium free for a period of time by using points.
There are so many more features Evernote has to offer so go download the app and start remembering everything! For those of you who already have Evernote what is your COAR workflow?