Entrepreneurial leadership… it's more than just having a great idea.
From individuals with the entrepreneurial spirit but don't know where to begin, to those who are clear on starting and growing a startup business, Leaderpreneur is the #1 must-read book detailing fundamental insights on all aspects about starting a business and growth.  
The tactics and methods detailed within have been tested and proven by successful leaders and entrepreneurs, demonstrating if you follow the wisdom provided on effective leadership and business, your startup will have a stronger chance to not only survive but thrive in its initial years.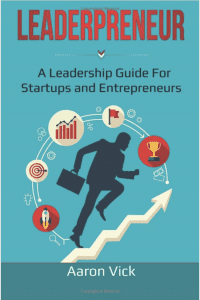 "Leadership plays a pivotal role in all business platforms."
Author Aaron Vick draws from 20 years' experience in the business world, ranging from establishing three businesses, acting as a startup advisor in the technology sector, and acting CEO of Cicayda, to share what he has learned. Vick provides a clear and informative guide for entrepreneurs from all different industries on how leadership and entrepreneurship must go hand-in-hand for the goal of a successful business to be met. Leaderpreneur provides readers with the opportunity to expand their mindset and access a treasure trove of insights and lessons learned, ranging from traits a leader must have, how to establish and manage a financial strategy, recruitment and hiring of staff, management skills, scale and growth, and so much more.  
This is a must-read for individuals establishing their own startup business!