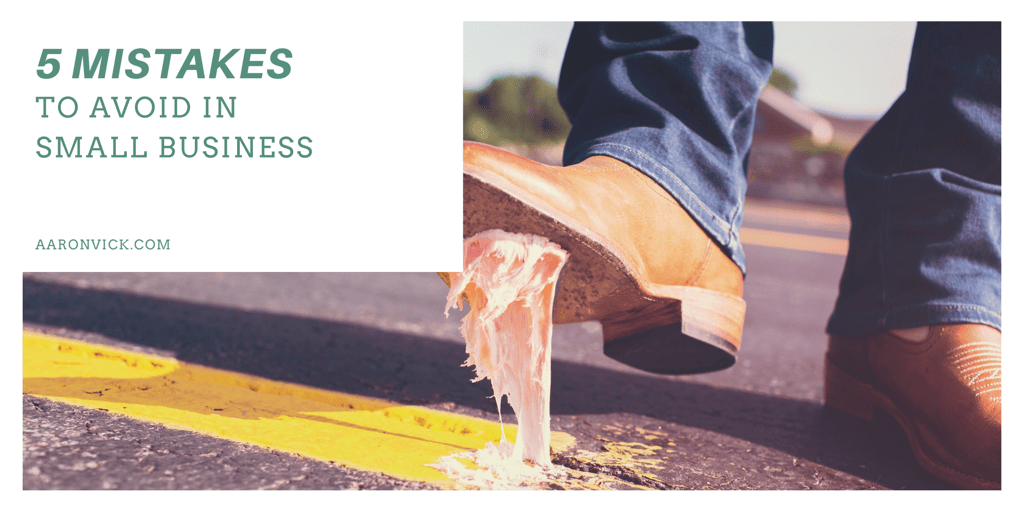 So, you are thinking of starting a small business.
You've settled on an idea and bounced it off of all of your friends and family.
They all loved it.
You're ready to take on the world, round the demo day circuit, get investment, and introduce the next hottest thing since sliced bread or the fidget spinner.
But what are some of the pitfalls that you should avoid when starting out in your new life as an entrepreneur?
I've already told you about some of the stress that is involved with starting your own company, but what are some of the steps you can take to avoid it catching up with you?
Come along as I take you through the 5 Small Business Management Mistakes You Must Avoid when launching a startup.

Not having a Clear Plan for Success
When starting your own small business, you really want to make sure that you not only have a strong business plan in place but a strong marketing plan as well.
To put it more simply: You could have the best idea that could help to revolutionize the world but if your message is muddled by a lousy marketing campaign, how can you expect anyone to care?
For instance, just take Sony's disastrous synergy campaign. They tried to convince the world that it will improve the user experience to only watch movies made by Sony studios through a Sony brand television streamed through a Sony PS3. The argument was so misguided and such a blunder that the company lost $3 billion in 2011.
When you are starting out, you can't afford that sort of pointless narrative from your small business management.
Just remember what they say about first impressions: You only get one!
Not Thinking Failure is a Possibility
I get it. You think that your idea is going to be an instant success and people will not be able to contain their enthusiasm for your company once it launches.
But I've got a really hard pill that you need to swallow right away.
Most small businesses fail.
It's just a cold hard fact that you need to get over.
And once you do, you will have more freedom to be in the moment and have realistic expectations for your company's goals in its early stages.
As Jerry Jao, the founder and CEO of Retention Science recently told Entrepreneur, "Acknowledging the possibility of failure prevents you from being complacent. Knowing that at any point your venture could take a wrong turn keeps you from resting on your laurels, which means you strive harder and don't let success lead to hubris."
Who knows, maybe your business will be a huge success right out of the gate. But you should definitely plan on there being a long hard road before you reach any sort of global domination.

Thinking You Can Do It All Alone
It's totally understandable to be precious with your idea.
It's your baby.
But an outside perspective from someone who knows how to navigate this brand new territory can be extremely valuable when you are getting your company off of the ground.
Small business management should be about teamwork.
So surround yourself with the brightest people you can find who have a shared desire to launch your company into the stratosphere!
Do I have to remind you about how stressful this can all get?
For the efficiency of your company, and the sake of your sanity, create a team of hardworking experts that can bring aspects to the table that you might not be able to.
You have a winning idea, so hire or partner with the winners that can help it shine!
I have gone both routes, alone and with a partner, in my career and the stats are true.  You need someone by your side to help keep all cylinders firing.
Not Understanding Your Customer's Needs
This is something that you need to understand right away before it is too late.
Who is going to be buying your product?
You know that it works for you because you came up with the idea. So take a step outside of your shell for a second.
What demographic is going to be on the same level of enthusiasm about this product as you are?
The best bet would be to invent something that has universal appeal, but if that's not the case you should really hone in on the specific age group or characteristics so that your product will truly resonate.
Alan Hall recently wrote about the differences between a failing company, Kodak, and one of the rise, Skullcandy. He explained that Kodak eventually went to way of the dinosaur by not being able to the accept the technological innovations in film and depended on its existing customers to stick with the old standard. He then explained the meteoric rise of Skullcandy headphones and attributed it to their laser focus on their customer's needs.
The customer is the most important asset to small business management.
By keeping an ear to the ground you will know what changes you need to make in both your product and your marketing strategy.
Don't Swim Too Far Out of Your Depth
Starting a small business can cost a lot of money.
So make sure that you are staying in shallow waters in the beginning stages.
It's easy to think that you should be presenting a professional image to your clients right away, but without the comfortable financial footing, overspending can lead to a slippery slope.
Don't fall into the trap that your start-up needs to feel like a startup.
You don't need the large loft space with the pool table and rotating keg of beer when you have less than 10 employees.  Check out co-working spaces and incubators like Mantle where you can network with others, bounce around ideas, and work without leasing office space.
Be frugal with your money because you never know what kinds of fires you will be putting out along the way.
Be smart!

Now You Know the 5 Small Business Management Mistakes You Must Avoid – No More Excuses!
By steering clear of these 5 mistakes you will be able to create a strategy for the launch of your small business.
Just remember to pay attention to your goals and to take it one step at a time.
If you have any more questions about the "do's and don't's" of small business management, feel free to send me a message through my contact page.
I'm here to help. We can get through this together!