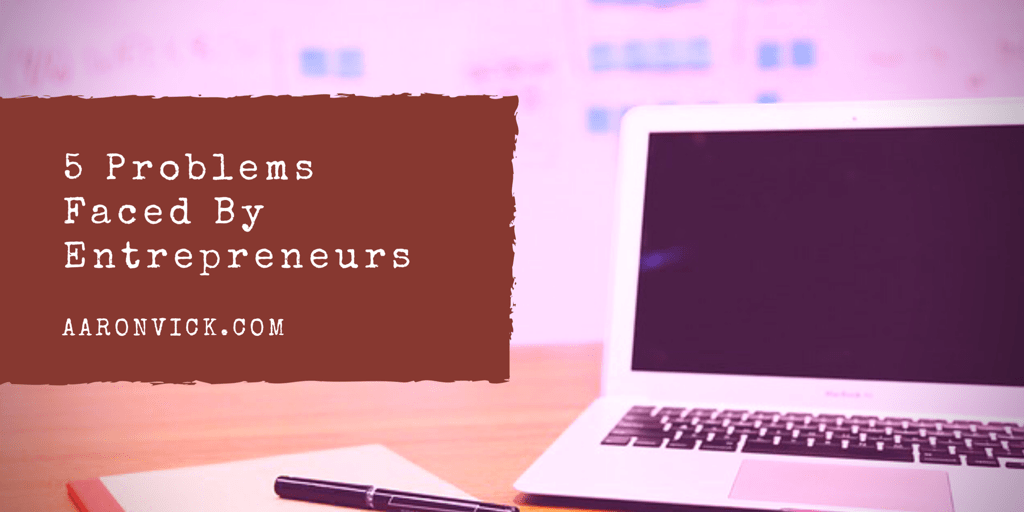 The startup life isn't easy and most problems faced by entrepreneurs would knock a lot of people out of the game. Here's some advice for your startup journey.
Starting your own business is not easy. It requires dedication, commitment and above all, hard graft.
69% of businesses are started at home and there are no age restrictions on becoming an entrepreneur. Anyone is capable of succeeding can startup a startup.
Here are five problems faced by entrepreneurs almost every day. I offer advice on how to tackle each of these head-on.
1) Long Hours, Long Days = Long Weeks
A third of small business owners in the USA say they would need to put in 69 work hours every week to successfully run their business.
If you only worked Monday to Friday, that's the equivalent of just under 14 hours a day. You'll probably also be putting in at least a few of those hours over the weekend.
This is one of the most common problems faced by entrepreneurs. And if I'm completely honest, no one can avoid it. But you can avoid burning out completely.
I'd say that the best way to tackle huge workloads is to know your limits and have coping strategies in place to help you relieve stress.
This might take the form of exercise, meditation, or simply indulging in something you enjoy doing without feeling guilty about taking a break.
2) Being Realistic
You probably have huge ambitions for your business. That's a good thing. But you need to adjust your expectations in the early days.
In reality, any small business would do well to turn a modest annual profit after a few years of very hard work.
Though, just so you know, the '8 out of 10 startups fail within 18 months' myth has been thoroughly debunked. The Small Business Administration says that 66% of small businesses make it through to their second year.
So please don't be disheartened when you see people writing about how 90% of startup businesses are doomed.
But you do have to be realistic about how well your business is going to do for the first few years. If you're setting unrealistic targets and failing to meet them, you'll end up disappointed for no good reason.
What I suggest is that you set up two targets.
First, set a baseline 'I/we made it' target, which will show that your startup is doing fine.
Then set up a secondary 'Wow!' target for after you exceed your expectations, so that you have a new goal to strive for.
3) Competition – Finding Your Place in the Market
Larger firms who could undercut your prices are of constant concern to startups. And then there are other people just like you, who run similar businesses and are looking to take a bite from your market share.
Don't ignore the competition. Reach out to them. A friendly relationship with a larger company can be mutually beneficial. You may find that other businesses are even willing to offer you advice on how to succeed.  See if you can interact and establish a relationship with one of their sales people to hear what's working and not working for them.  They face the same business objectives as you!
One other way you can help your brand or product to get attention is to enter startup competitions and finding a demo day.  Look around to see if there are any co-working or incubators near you.  They typically have great events where you can meet others in similar markets and meet others in the local startup community.
Receiving a widely recognized endorsement will mean favorable first impressions from customers. Even being able to say that you've been shortlisted for a prestigious award can make people more interested in you.
And did you know that it costs five times as much to acquire a new customer than to keep an existing one?
Keeping the client happy will not only help you survive in a competitive market – they'll tell their friends about the great experience they had. Traditional marketing activities are no match for  the power of a customer recommendation.
Don't be afraid to ask for a referral to other clients!
4) Hiring Other People (and Trusting Them)
If you haven't run a business before or been involved in the hiring process in a company, bringing your first employee on board can be quite difficult.
You've spent months building your business. Now you need to hand some responsibility to someone else – and trust them.
People who have previously worked at a startup or small business can be a good bet. They are more likely to have the right mindset and drive to succeed in a similar, fast-paced environment.
One of the main problems faced by entrepreneurs is that in reality, the 'perfect candidate' for the job might not even see an advert for a small company.
One innovative solution to this problem is to ditch the classic 'advertise, interview and hire' strategy.
Instead, get yourself invited to as many networking events as possible. Start conversations and see what comes up. This is a great way to meet people with different outlooks who may be able to benefit your business.
In truth, most of these people probably won't be looking for a new job. But an upside of this approach is that it also helps you gather valuable feedback on your ideas from people you haven't met.
5) Managing the Finances
Some startups fall victim to the trap of overspending or mismanaging finances due to lack of experience. In short, finding yourself with cash flow problems could spell the end for your startup.
Don't try to do your own accounting unless you've got some experience managing business finances. If you file taxes, then later hire an accountant, they might have to go back and re-file taxes or redo your books.
I recommend that you look into professional help to make sure everything is done properly in the first place. This is one of the best investments you can make.
A good accountant can help you manage things like cash flow and pricing strategies while keeping your hands free to run your business.
Don't make the mistake of thinking a good accountant isn't affordable. Many reputable accountants and financial consultancies often offer affordable rates for smaller businesses.
Mentors Help
Startup owners often find mentors to be incredibly helpful. Mentors have been where you are and have overcome problems faced by entrepreneurs.
You might think that you're spending so much time running your business that there's no way you also have time to spend with a mentor. However, entrepreneurs with a mentor can stand to increase their annual revenue by 106% – compared to a much weaker growth of 14% for those who went forward without a mentor.
Want more entrepreneurial advice? I'm always willing to hear about new businesses and offer my expertise. I look forward to hearing about your venture and don't forget to signup for the Ultimate Startup Checklist!