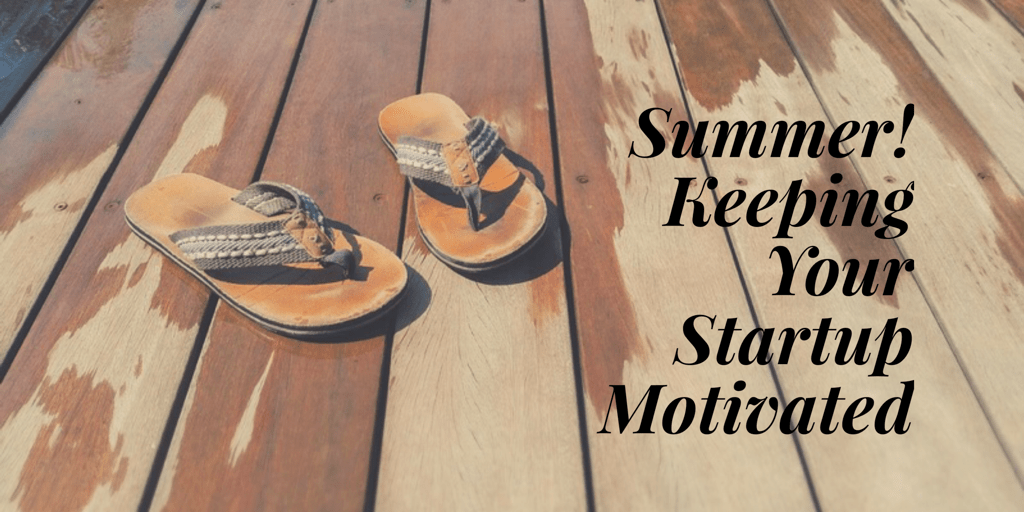 Let's face it – as temperatures creep up, motivation plummets.
It can be hard to stay energized when so much summer fun is calling but the success behind every startup company is a motivated team. These folks are the difference between a lasting impression and one that falls incredibly flat. But, there is hope.
Keeping team members motivated from June to August is easier than it seems. It just takes some creative thinking and your best cheerleading skills.
Begin by revisiting the company's original motivators.
Remind your team members of the basics.
Who are you trying to target? Does your product or service appeal to young or old, male or female, risk-takers or conservatives? A little time spent looking at the past few months can go a long way in understanding your customers and building the best marketing plan.
What do you need to do to get in front of your target? Speak at service club events? Visit local festivities and fairs? The warmer months are a great time to get involved in community events that allow you to distribute samples and product or service information.
When is the best time to do this? If the summer months aren't good for selling winter wear, what can you do to prepare for an epic sales season and how can you market your products or services to have people looking forward to cold weather?
Where do you need to be? If you are offering something that will make hot months easier to bear, selling to an Alaskan audience probably isn't going to get you very far. Summer is the best time to scope out the country. Travel deals are around every corner and weather isn't an issue, so hit the road and meet your next customer.
Why? It's so easy to forget that moment you decided to make your dream a reality. Heat can certainly make it difficult to think positive and remember the motivation behind your company's dreams, but taking advantage of what the summer months can offer is a great way to keep team members motivated and inspire forward-thinking.
Stay Cool and Carry On
Continue with your regularly scheduled meetings and stay aware of the business objectives.
It can be so easy to put off meeting with the group when so many things can stand in the way — summer vacations, soaring temperatures, picnics, the beach calling — but so many startups lose motivation when they fail to provide an organized time for team members to offer input. Getting together to go over the Five Ws can go a long way in keeping everyone on the same page and working toward the same goal.
If being indoors is simply too much for some to bear, consider meeting for ice cream or lemonade, or get together at a favorite outdoor hotspot for appetizers. Take advantage of positive moods when the weather is nice but remember that "heat wilts" productivity.
Keep things fun and, at the very least, it will inspire those lacking in energy to pop in for the discussion.
Mandatory Vacation Time
This sounds like the opposite way to increase production, but requiring employees (and founders!) to take time off lets them know that you appreciate the hard work they have done and that you recognize the need to hit the reset button occasionally.
The summer months are the perfect time to offer a mandatory vacation that will allow members of the team to recharge and instill personal balance. What you will get in return is an employee and/or co-founder who is thankful about his position with the company and motivated to help the business meet its mission.
Rewards!
Reward team members for continued motivation. As CEO and co-founder of GetHired.com, Suki Shah, has said, being an entrepreneur is a lifestyle, not a job. It is important to recognize that those involved believe in the mission of the company and jumped in because they are interested in a healthy balance of work, life, and play.
Helping to nurture a healthy mind-body connection is one of the best and easiest ways to not only say "thank you," but to keep team members on top of their game. Things like massages, an afternoon off for a dip in the local pool, and healthy company lunches are great ways to reduce stress, while providing fuel for action.
Celebrate
Celebrate together. At one of your scheduled meetings or during an internal demo day, don't forget to devote some time for reflection.
Even the smallest of successes should be recognized and celebrated. From the cold call that lasted longer than 30 seconds, to the company's biggest sale to date, both are rungs on the ladder for a startup's success.
Consider taking this idea one step further.
As each member shares accomplishments for the week or month, have them blindly choose an incentive from a basket, such as those offered above.
Remember: Never underestimate the power of an ice cream sundae or an hour-long massage.