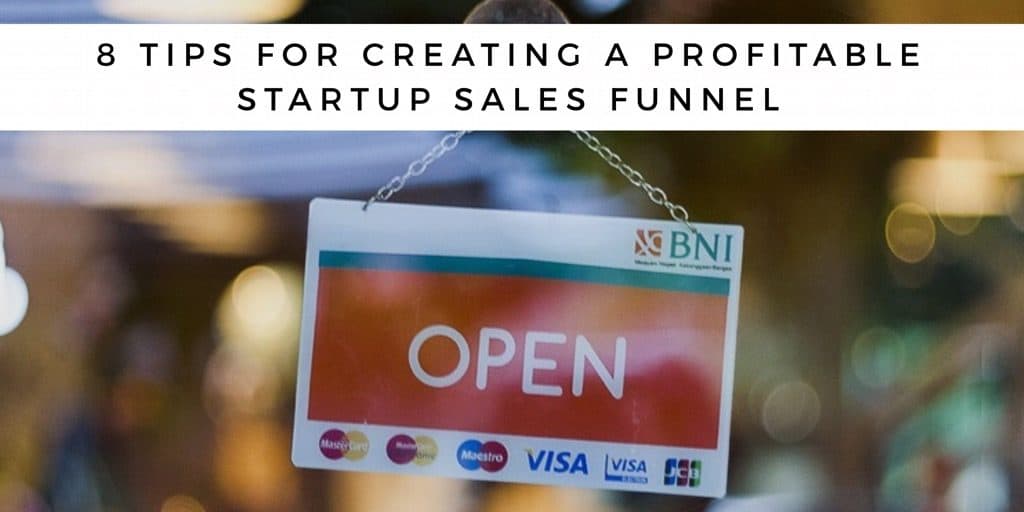 8 Tips for Creating a Profitable Startup Sales Funnel
Understanding how a sales funnel can work for your startup can do wonders for your profits. Follow these tips to get the most out of your business.
Globally, three businesses are launched every second. In the US, $8.3 billion in venture capital is invested every year. That's $1,532 every second.
Unfortunately, only half of new startups surviving five years or more. A well-planned sales funnel can be the difference between success and failure, which is why you need to learn how to make the most of this sales technique.
Here's how you can guide your leads through the sales process and increase conversions:
1. Revamp Your Landing Page
Your landing page is your chance to make an excellent first impression. For this reason, you need to take the time to make sure it's user-friendly, it looks great, and it's easy to see what you're offering.
When you're creating or revamping your landing page, you need to think about what you want your leads to do. Then put yourself in their shoes. Are you making it obvious what the next step is once they land on your site?
One of the most important aspects is a visible call to action. This is almost guaranteed to increase your conversions. Here are some options:
Add a CTA to your header or footer
Add an exit pop-up
Promote your lead magnet in the sidebar of your landing page
Create a large CTA above the fold
2. Know Your Buyer Personas
If you haven't already, now's the time to begin mapping your buyer personas. These should include psychographic data and demographics. The way you design your sales funnel will depend hugely on who your customers are.
Buyer personas are research-based representations of your customers. Ideally, you'll be able to use data from various aspects of your business, including:
Social media
Google Analytics
Surveys
Conversion Rates
And more
Think about how you speak with your family and friends. You probably use different language when you speak with your 87-year-old neighbor compared to when you text your spouse.
The same goes for your buyer personas. Once you know who you're talking to, you can develop your content and copy based on what will resonate with them. And that will have a huge impact on your conversion rates.
3. Outline Your Content Needs
Content is the foundation of any successful startup sales funnel. You need a dedicated strategy that will guide visitors through your funnel. This will ensure that you're not wasting time creating unnecessary or weak content, and instead, create content that will have the most impact.
You'll need to create content for each stage of your sales funnel:
Awareness Stage
At the top of your funnel is when you want to begin building relationships with your leads. The goal is to earn permission to regularly communicate with them. You can do this by encouraging them to subscribe to your emails or "like" you on social media.
This content will be about helping your leads solve their problems. Here, you can use engaging infographics, social media content, and blog posts.
Consideration Stage
Once your leads have moved to the middle of the funnel, you've received permission to communicate with them. Now, you can deliver targeted content through email and use blog posts embedded in your newsletters.
This content is all about the consideration stage. Your aim is to let your leads know all the reasons why they need your service or product. You want to move them to the final stage of the funnel.
Decision Stage
This is when you focus on closing the deal. Your aim is to establish your startup as a thought leader Rand demonstrate your industry knowledge.
Aim to educate your leads and explain new ideas. This is when the use of testimonials, case studies, product guides, and ebooks work well.
4. Be Repetitive
This is when you focus on consistent follow-up and repeated messaging.
People are more likely to opt-in to your email list if they're repeatedly asked for their email address. Each page should have multiple CTAs, and if you're not yet using popups, now is the time to do so.
Consider the Amazon website. If you look at the homepage, you'll notice multiple call-to-action buttons for the service. And around 80 million customers have now signed up.
5. Make It Clear
People won't buy what they don't understand. Many startups focus on creating catchy headlines and clever copy. But the focus needs to be on your customers' understanding.
Your copy needs to be clear and effective. Research has shown that visitors prefer copy that is direct and simple.
There are a few ways you can check if you're getting your message across. There are a number of feedback survey tools you can use. These will ask your visitors a question as they're leaving your site.
Another option is to order a user test. This is when complete strangers use your website and provide actionable insights.
6. Offer Proof
Humans are social creatures. We're much more likely to buy something if there is proof that other people have bought it. This allows us to minimize the risk of loss.
Think about the last time you were looking for a new book on Amazon or choosing a movie on Netflix. You probably looked at the reviews right?
Your customers are exactly the same. Here are some options for social proof:
Case studies
Reviews
Testimonials
Press logos
Customer logos
Third party accreditation
7. Know Your SEO
You're aiming to attract potential customers to your landing page. To do this, you need to provide content that's developed around the keywords they're searching.
The goal is to answer their questions so your content will rank high in the search engine results and attract visitors.
Spend some time using Google's Keyword Planner. You can also check out SEO Management: How to Optimize Your Site for Google.  Knowing which keywords to use will help improve your content and ensure the right people are visiting your site.
8. Do A/B Testing
A/B testing (or split testing) is one of the most helpful tools at your disposal. You'll be surprised by how a few changes to your website can improve the results of your sales funnel.
Basically, you compare two different versions of your landing page against each other. This allows you to see which one is performing better. Different pages are shown to users at random, so you can see which will give you the highest conversions.
Ready to Improve Your Sales Funnel?
With the above tips, you can create a sales funnel that will increase conversions and profits. But it's important to continually update your funnel by using A/B testing and listening to feedback from your customers.
What do you think of these tips? Get in touch to learn how I can help you get your startup off the ground.