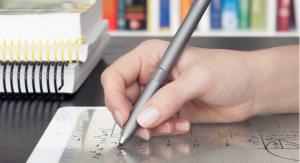 Over the years I have become more accustomed to drafting notes directly on my phone as it isn't always the best setting to whip out the laptop and begin typing away or when pen & paper are not within arm's reach.  Kate Bailey, Industrial Designer on the Microsoft Surface eloquently explains not only the etiquette of taking notes but also why only one method works best.  She says "[w]hen you're sitting in a small class or discussion group, a laptop screen can be a barrier, preventing eye contact and giving the appearance that you're not giving the people in the room your full attention.  On the other hand, with a pen, you can write while maintaining eye contact—it's intuitive, it's personal, and at the end of the day you still retain more information that you would if you were typing."
Now we enter the world where analog and digital are merging and the methods of capturing information is the wild-wild-west of technical devices & accoutrements all clambering for your attention.  Though I have standard routines for note taking, I'm always looking for optional methods that may enhance my collection of information or replace an old habit or two.  So, I decided to test the Jot Script 2 created by Adonit and have been doing so for a couple weeks now.  I've become a heavy user of Evernote for storing my major notes as well as the occasionally post-it/napkin when I need to jot down something that will be irrelevant within hours, so it made sense to test the waters with a stylus designed explicitly for note taking on the Evernote app Penultimate.  Penultimate has been designed to provide the user a various array of writing surfaces such as a blank page, lined, or grid then syncs those "paper" notes directly into Evernote for filing and searching.
As a Gen Xer, I am very attached to the traditional method of pen & paper* yet, surprisingly, this seems to be a universal trend across generations… including the Millennials entering the workforce.  My perception has always been Millennials were born directly into the digital world and their use of pen & paper would be nearly non-existent.  However, per research conducted by TRU, a division of TNS Research Global, it seems that even Millennials believe they cannot live without paper.  TRU finds that "[n]ine out of 10 [Millenials] say that despite today's technological advances, they doubt they will ever give up paper completely" in their 2011 survey.
Nonetheless, Adonit has presented an alternative option to paper that warrants review.
Overall Design
Most digital styluses designed for writing have been very awkward & clunky in design and quite cumbersome to hold unless you typically wrote full-time with jumbo dry erase markers.  Now enters the Jot Script 2:Evernote Edition developed by Adonit into the marketplace and costs around 75USD.  It has a super clean aluminum design, feels more like a traditional pen, and pairs very easily with your iPad via Bluetooth.  It is very lightweight and sleek though it is missing a pocket clip to secure the pen to your shirt pocket, inside your jacket, or pen slot in your briefcase/laptop case.
Charging and Connectivity
The pen is super easy to charge using the USB dongle.  The end of the pen connects to the dongle magnetically that rests the pen securely atop the dongle. It appears to take around 45 minutes to fully charge the pen and connecting it to the digital device is very easy.  The method of connection is via Bluetooth and pairing was quickly done through Evernote's Penultimate app by tapping the screen within the Settings Menu.  I paired it to my Apple iPad and had no issues at all and connected it in under 30 seconds.  However, there seems to be an auto-shutoff on the stylus because it required me to press the connect button if I ever left it sitting down for a few minutes between note taking.  It would be a really nice feature to have it auto sense when the device is raised in a writing position minimizing the extra step to turn it back on again.
Using the Stylus
I tend to write fast, at an angle and in a butchered cursive, continuous motion.  The stylus seems to have a bit of a delay when I write causing it to miss a letter here and there unless I slow down my writing AND keep the stylus at an uncomfortable angle for me.  In no way am I a poster boy for best writing practices but trying to adapt to holding the pen so the entire tip is flat on the iPad surface is quite awkward for me and forces me to take focus of the conversation and more on "am I holding this device correctly?"
Additionally, I had to turn off Multitasking Gestures which was a very frustrating option to have off in order to utilize the "palm rejection" feature of the stylus.  Adonit describes this feature on their website as the ability to "rest your hand comfortably on the screen when working in compatible apps."  However, I have become accustomed to utilizing the multi-touch gestures to switch between applications and I prefer using the software option versus the method of pressing the home button.  I tend to switch applications quite frequently throughout the day and my gut feeling is I increase the life span of my hardware by not pressing that home button hundreds of times daily.
Penultimate has many great options for note taking allowing you to change your ballpoint size, highlighting, eraser, & more but because I write at an angle both with my pen and positioning on the paper, the iPad is quite uncomfortable.  I'd love to see a feature where the software would allow you to tilt the iPad to a comfortable position then digitally rotate the paper so you are writing uniformly left to write compared to the angled writing I'm left with in this version.  Of course, I could re-learn to write with pen held high, wrist up, and approach the "paper" head-on.  At the time of writing this post, I have not tested any of the other apps available for the Jot Script such as Goodnotes 4, Noteshelf, and Forge.  The entire list of the compatible apps can be found here: 
http://www.adonit.net/jot-ready-apps/
.
Conclusion
My overall impression of digital note taking may certainly evolve as we continue enhancing technology but for now my personal workflow will be centered around the traditional note taking then embracing the digital resources to manage all the information on the backend.  Specific to the Jot Script 2, it seems like a great tool to write naturally on a digital device; however, it just doesn't have enough consistency allowing me to furiously write notes without having "fiddle" with the interface.  For now, I will gravitate towards typing my information via my phone's keyboard when I am in a situation where pen and paper are not readily available even though "[d]rawing each letter by hand substantially improves subsequent recognition" per Edouard Gentaz, professor of developmental psychology at the University of Geneva.
* I enjoy writing traditional notes and my current workflow end with uploading into Evernote via Moleskin Evernote notebooks and my iPhone camera
[wonderplugin_slider id="1″]